No61 is situated within easy walking distance of the centre of Winchcombe, with a host of attractions, restaurants and pubs on your doorstep. The cottage is a short drive from many other Cotswold towns that can be explored, as well as having walking and cycling routes nearby. Cheltenham, Tewkesbury and Evesham are all a short drive from Winchcombe.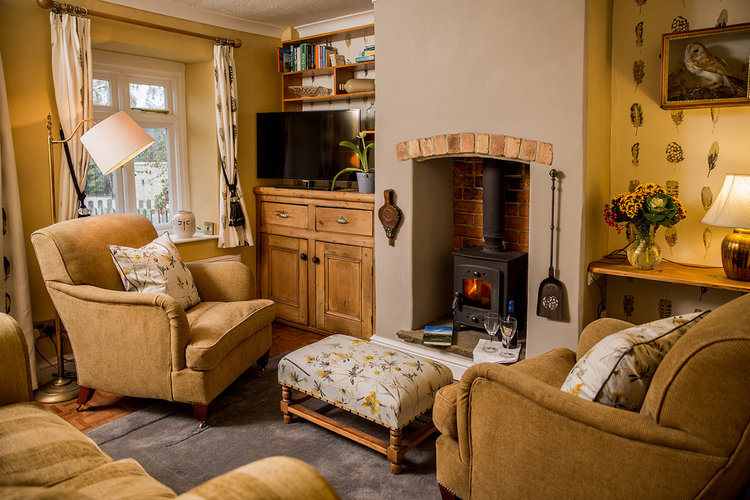 Sumptuously decorated, with comfy sofas and a wood burning stove, perfect for a cosy night in. Free wifi, bluetooth music system and TV.
Overlooking the beautiful gardens, with views up the hills. Quirky interior design, with a single bed, and a cot bed available if requested.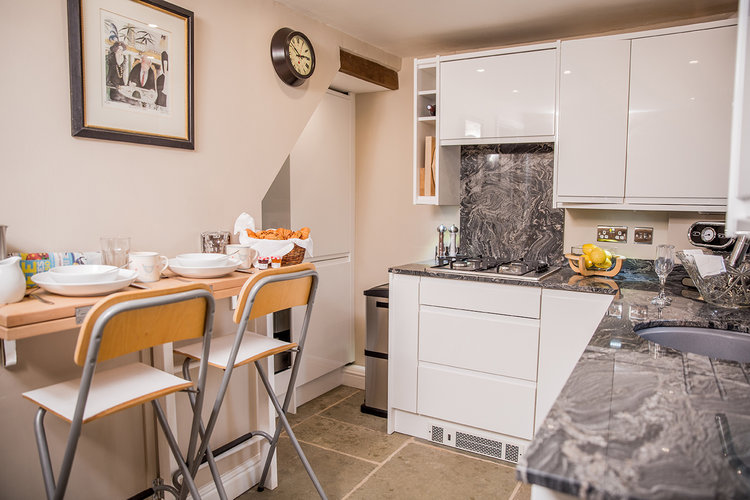 Sleek and sophisticated kitchen, with all the mod-cons that you will need for a comfortable self catering break. Use it as much or as little as you wish.
Beautifully designed luxurious bedroom, with 100% cotton bed linen on a comfy kingsize bed. Plenty of storage for your holiday essentials.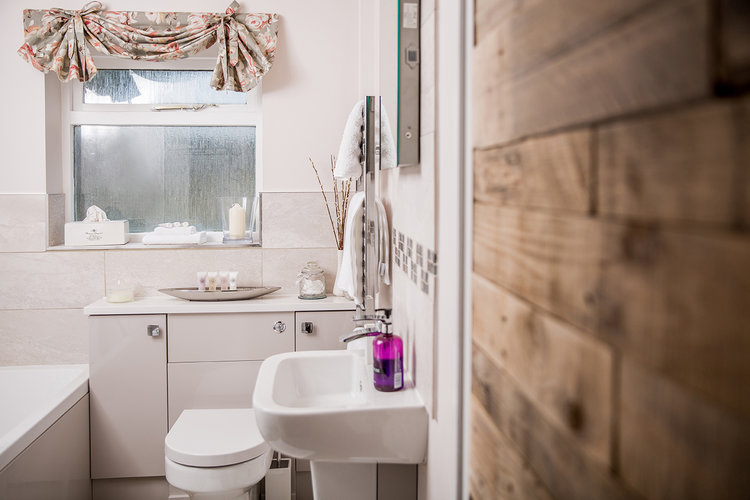 Newly fitted ground floor bathroom with bath and shower over. Soft cotton towels and flagstone flooring, the perfect place to relax and unwind.
Landscaped garden with decking area, stylish seating and barbeque. There is also a private off road parking space.
Stylish, quirky and sympathetic interior design makes No61 stand out
Reused, recylced, upcycled, quirky, historic; every piece has a story. Revitalised, comfortable, unusual.
No61 has everything you could need for your stay and comfortably sleeps 3 (plus an infant). As with very old cottages, it is bijoux rather than big, and cosy rather than capacious.
Free Wifi
Freeview TV
Bath and shower
Complimentary Toiletries
Washing Machine
Microwave
Dishwasher
Espresso Coffee Machine
Barbecue
Off road parking for 1 car
Travel cot
Quality Linen and Towels
*Please note the bathroom is downstairs.
Winchcombe is the jewel of the Cotswolds, with quaint winding streets, beautiful countryside and historic attractions.
Booking Contract

Booking Contract General These terms and conditions (the "Booking Contract") are between and shall bind the property owner ("We", "Us", "Our") and all members of the holiday party ("You", "Your") who book the Property directly with Us, (the "Booking") This Booking Contract, along with your Booking Confirmation contains the entire agreement between us. Nothing in this Booking Contract affects Your usual statutory rights. Making your Booking The Booking shall be made when We have accepted Your booking request and this Booking Contract shall be effective once the Initial Deposit (as defined in your Booking Confirmation) or full payment has been received by Us and You have received an email including Your Booking Confirmation. You must check the details in the Booking Confirmation, as this forms the basis of Your contract with Us. Any errors or omissions in the Booking Confirmation must be notified to Us immediately. Paying for your Booking The quantum and timing of Your payments to Us are specified in the Booking Confirmation. If You fail to make payments by the specified dates We shall be entitled to treat Your Booking as cancelled by You and the Cancellation Policy (as defined below) shall apply. The payment facilitator used by Us on Your Booking will be by payment of the monies directly to Us. Cancellation or amendment of Your Booking by You If You need to cancel or amend Your Booking You must contact us as soon as possible. A cancellation or amendment will not take effect until We receive notice from You and have acknowledged receipt from You either by email or in writing. Cancellation Policy in the event of You cancelling your Booking You are required to pay an Initial Payment in order to secure the booking. If You cancel your booking more than 21 days prior to your arrival date You will be refunded this Initial Payment in full. The balance of Your Booking Cost and the Damage Deposit is due 21 days before your arrival date. If You cancel the booking less than 21 days but more than 7 days before your arrival date You will be refunded 50% of Your payments relating to the Booking Cost and the full Damage Deposit. If you cancel the booking less than 7 days before your arrival date you will be charged the whole booking cost but the whole of the Damage Deposit will be refunded. Cancellation or amendment of Your Booking by Us We would not expect to have to make any changes to Your Booking once it is agreed between You and Us, but in exceptional circumstances problems may occur meaning We do have to make an alteration to or cancel a Booking. If We need to amend or cancel Your booking We will contact You as soon as possible and inform You of the cancellation or the change to Your Booking. If an amendment is not acceptable to You, or if we need to cancel your Booking, We will refund You any monies You have already paid. Please also see Limits of Liability, below. Your obligations You agree: • to comply with the regulations set out in any property manual at the Property and any other regulations reasonably specified by Us from time to time and ensure that they are observed by all members of Your party. • to keep and leave the Property and the furnishings, including items such as kitchen equipment, crockery and glasses clean and in good condition. • not to cause any damage to the walls, doors, windows or any other part of the Property nor to do anything that may be reasonably considered to cause a nuisance or annoyance to Us or to any occupier of adjoining or neighbouring properties. • to take all necessary steps to safeguard Your personal property while at the Property. • not to allow more people to stay in the Property than notified in Your Booking Confirmation, nor to significantly change the makeup of Your party prior to or during your stay. • not to allow any member of Your party to smoke in the Property, • not to allow any pets in the Property. • to allow Us or any representative of Ours access to the Property at any reasonable time during Your stay for the purpose of essential repairs, in an emergency or to ensure You are complying with this Booking Contract. We will treat any breach of these obligations as a cancellation of the Booking by You and We shall be under no obligation in this event to refund You any fees already paid to us, including the Damage Deposit. Complaints Every effort has been made to ensure that You have an enjoyable and memorable holiday. If however, You have any cause for complaint it is important that remedial action is taken as soon as possible. It is essential that You contact us if any problem arises so that it can be speedily resolved. It is often extremely difficult (and sometimes impossible) to resolve problems properly unless We are promptly notified. Discussion of any criticisms with Us whilst you are in residence at the Property will usually enable any shortcomings to be rectified straightaway. In particular, complaints of a transient nature (for example, regarding preparation or heating of the Property) cannot possibly be investigated unless registered whilst You are in residence at the Property. If any complaint cannot be resolved during Your holiday, You must write to Us or email Us with full details within 28 days of the end of Your Booking. Limit of Liability Our maximum liability for losses You suffer as a result of Us acting in breach of this Booking Contract is limited to the amount received by Us in relation to your Booking. We shall not be liable for any consequential losses which You may incur. We cannot accept any liability whatsoever for any losses of or damage to any personal belongings whilst in the Property. Motor vehicles are parked at the Property at their owner's risk. This does not exclude or limit in any way our liability for death or personal injury caused by Our negligence or for fraudulent misrepresentation or for any matter for which it would be illegal for Us to exclude or limit or attempt to exclude or limit Our liability. Law and Jurisdiction This Booking Contract (including any non-contractual obligations arising under or in relation to this Booking Contract) between You and Us is governed by the law of England and Wales and we both agree that any dispute, matter or other issue which arises between us will be exclusively dealt with by the Courts of England and Wales.

Interaction with guests

I am happy to help with any queries you may have before and during your stay, but will also leave you to enjoy the cottage in your own private space.

Parking

There is private parking for one car at the rear of the property. Further unregulated parking is available on the road outside.

House rules

No pets
No smoking, parties, or events
Check-in time is 4PM, please check out out by 10AM
Self check-in available by use of a keysafe

You must also acknowledge
Potential for noise - The Cottage is an old terraced cottage. As a result you can occasionally hear the neighbvours in the next door properties
Must climb stairs - old steep staircase which is original to the cottage
Security Deposit - a £200 damage deposit must be paid 21 days prior to your stay

Cancellations

A 50% deposit is taken to secure your stay. The balance plus damage deposit is due 21 days before your arrival date. If you cancel your stay more than 21 days before your arrival date you will be refunded in full. If you cancel more than 7 days before your stay you will be refunded 50% of your payments. If you cancel 7 days or less before your stay you will be charged in full. The damage deposit will always be refunded in full for cancelled stays

Other things to note

A travel cot is available for your use. Please bring your own child's bedding. Luxury Breakfast Hamper, Beef Bourguignon Supper and Fruit and Vegetable boxes are available at a small extra cost to be paid in cash on arrival. Details of available extras are sent out to you 2 weeks prior to your arrival.